Enterprise Resource Planning
Enterprise Resource Planning (ERP) refers to a software system whereby the main role is to integrate the main functions of an organisation's processes into a single unified system.
Therefore, ERP systems are a single application with the aim to cover all of a business' needs. They are made up of modules that focus on key business areas, primarily Finance, Manufacturing, Human Resources (HR) to name a few.
In the past, ERP systems were primarily relevant to large corporations due to the time and cost required to implement and maintain. Nowadays, organisations of various sizes are opting for these systems due to the advantages they bring about in terms of economy, effectiveness and efficiency.
One of the main concerns of ERP systems is in terms of resources required, due to such systems requiring powerful and dedicated hardware to operate effectively. However, many ERP providers are now offering cloud-hosted ERP solutions on a subscription basis. This eliminates the initial cost required to set-up the system as well as any costs required for system administration on a daily basis.
Understandably, choosing an ERP system is a massive decision for any company. Regardless of whether the organisation opts for on-premise or a cloud-solution, significant time needs to be invested in order to properly implement the ERP system. Thus, it is expected that businesses pick a system which they envisage using for many years to come.
ERP systems are of an off-the-shelf nature, meaning that they are standardised for all companies. This will entail businesses having to fit their processes in the manner prescribed by the ERP system.
Therefore, a fundamental consideration to consider is the flexibility in configuring and tailoring the ERP system, in addition to the cost and the time required to make the necessary changes.
The following are key questions that potential clients should ask to the ERP partner when considering their product:
How easy is it to change workflow process within the system? Is this something that we can amend on our own?
How is the licensing structure set up? Is licensing concurrent?
Can we use the system to 'manage by exception'? i.e. does the system trigger an alert to the relevant individual when action needs to be taken?
Are all modules available to be deployed on a wide-range of devices? i.e. Windows PCs, Macs, iOS/Android devices etc?
Can I create performance dashboards and make them readily available to access via smartphones without the need for partner intervention?
We are proud to be the only Epicor ERP partner in Malta. We are happy and willing to answer all of the above questions and many more which you may have!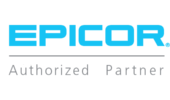 Epicor is ready to help organizations take advantage of new market opportunities and manage growth with its latest Enterprise Resource Planning (ERP) suite. Guided by the needs of today's users, Epicor ERP delivers the choice, flexibility, and agility needed to support strategic initiatives and lean out wasted processes.
Epicor minimizes the complexities of traditional enterprise resource planning by delivering a software that emphasizes ease of use, collaboration, and responsiveness. With the flexibility to be run on-premise or in the cloud, Epicor ERP provides a comprehensive set of global functionalities, enabling you to drive profitability, inspire innovation, and respond quickly to an evolving business environment.
Epicor ERP software offers a modular approach with robust capabilities focused on reducing costs, streamlining processes, and improving customer responsiveness across the enterprise—all top priorities toward achieving continued growth and profitability.
Epicor is dedicated to providing integrated ERP software with solutions for customer relationship management (CRM), manufacturing operations, supply chain management (SCM), human capital management (HCM) and more. Leveraging innovative technologies like Web services, with Epicor ERP, Epicor offers end-to-end, industry-specific ERP software solutions designed to meet the needs of manufacturing, distribution, and services industries.
With the scalability and flexibility to support long-term growth, Epicor ERP software is complemented by a full range of services, providing a single point of accountability to promote a rapid return on investment and low total cost of ownership. Highly flexible and scalable, Epicor enterprise resource planning can be deployed to fit your unique operational needs, resources, and budget, including on-site installation, hosted, or as a SaaS or Cloud application. You simply determine the deployment model that is right for your organization.
Click on the Epicor logo to find out more.