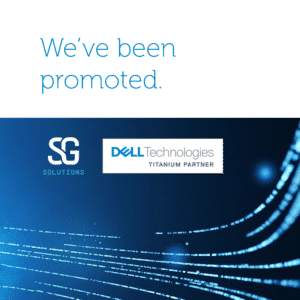 SG Solutions, a leading provider of IT solutions and services in Malta, has recently achieved an impressive milestone by being named a Dell Titanium Partner. The recognition is an impressive accomplishment and a testament to the company's expertise, exceptional customer service, and its ability to provide cutting-edge technology solutions.
To become a Dell Titanium Partner, SG Solutions has demonstrated its extensive knowledge, experience, and commitment to excellence, having undergone rigorous training and certification programs. The company has demonstrated a proven track record of successful implementations, outstanding technical expertise, and unparalleled customer satisfaction. This is a remarkable achievement, as Dell's Titanium Partner status is one of the highest levels of partnership offered by Dell, and it's only attainable to those partners who have successfully met Dell's stringent criteria.
Being a Dell Titanium Partner grants SG Solutions access to an extensive range of Dell's advanced products and services, including Dell EMC, VMware, Secureworks, and many more. SG Solutions will be able to offer their clients the latest in technology innovation and cutting-edge IT solutions, which will enable them to improve their overall operations, reduce their costs, and drive their business forward.
The Dell Titanium Partner status also provides SG Solutions with a range of benefits, including access to the highest level of technical support, enabling them to offer their clients seamless integration, exceptional service delivery, and first-class customer service. This partnership also allows SG Solutions to tap into Dell's vast network of resources, training and certification programs, and other resources that can help them stay ahead of the competition.
In conclusion, SG Solutions has achieved an incredible milestone by becoming a Dell Titanium Partner. This elite status underscores the company's commitment to providing exceptional value to its clients, investing in technology innovation and expertise, and delivering superior service. As a Dell Titanium Partner, SG Solutions will be able to continue delivering advanced technology solutions and exceptional customer service, helping their clients improve their business operations and succeed in a highly competitive market.