Being a Dell Platinum partner and having over 40 years' worth of experience in the industry has earned our customers' trust in securing one of their most valuable assets, their data. A company's data has become one of its biggest assets and as IT teams push forward to digitally transform internal processes, a skilfully planned backup infrastructure is essential.
When designing such infrastructure, the main points of security, scalability, data retention and recovery flexibility are to be considered. Here at SG, we offer a solution based on Dell EMC's Data Domain Appliance paired with Veeam's Backup & Replication software.  Both these feature-rich products work together to address the main points outlined above.
In context to security, Veeam offers protection against ransomware attacks, where no data is lost, or ransom paid. This is an essential feature, especially since Ransomware attacks were up 93% for the first two quarters of 2021.1
Another aspect worth evaluating is scalability. The Data Domain line-up is designed to be expanded in storage as deemed fit during its lifetime. The DD3300 starts at a 4TB base and can be expanded to 8TB, 16TB or 32TB of usable capacity. If more storage is required for a backup solution, the DD6300 is the next tier up and can scale up to 178TB of usable capacity. Higher end models with more storage and a higher maximum throughput are available.2
With that in mind, there are certain features that can reduce your backup footprint when storing on Data Domain. When backups are in transit between the main infrastructure and the Data Domain, the DD Boost software library installed in the backup server asks Data Domain which segments are new, compresses them and sends only the unique segments required. In addition to data compression, this increases the aggregate backup throughput and reduces local network traffic between 80 to 99%.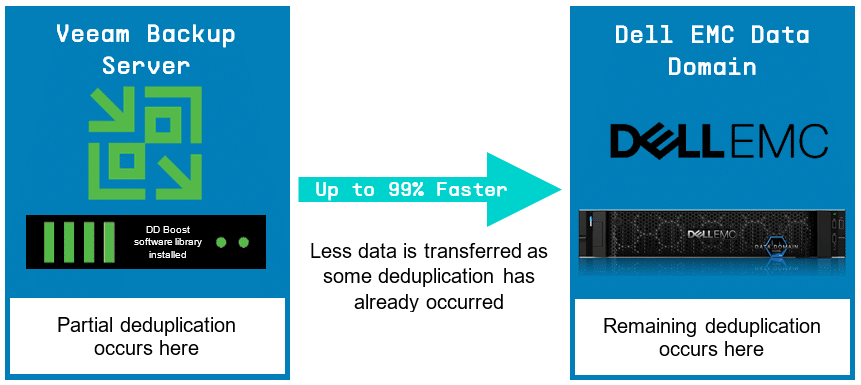 In addition to Compression, Data Domain excels in deduplication efficiency while ensuring data integrity. All deduplication solutions can reduce network usage and storage requirements. However, how efficiently they do it, how fast they do it and whether critical data can be reliably recovered vary greatly.
With Data Domain, features such as variable length deduplication reduce storage requirements by 10 to 30x, whilst unparalleled data integrity techniques ensure reliable recovery processes in the case of ransomware attacks and disaster recovery situations alike.
With all these features, it's no wonder that Dell EMC has been the market leader by revenue for as long as the IDC has been tracking the market. In 2020, they owned 47% of the total purpose-built backup appliances market share.3 Feel free to contact us with any inquiries you may have in the message box below.
References:
https://www.delltechnologies.com/en-us/data-protection/data-domain-series/data-domain-dd6300-data-backup-appliance.htm#overlay=/asset/en-us/products/data-protection/technical-support/h11340-datadomain-ss.pdf
Further reading:
Written by Matthew Pace